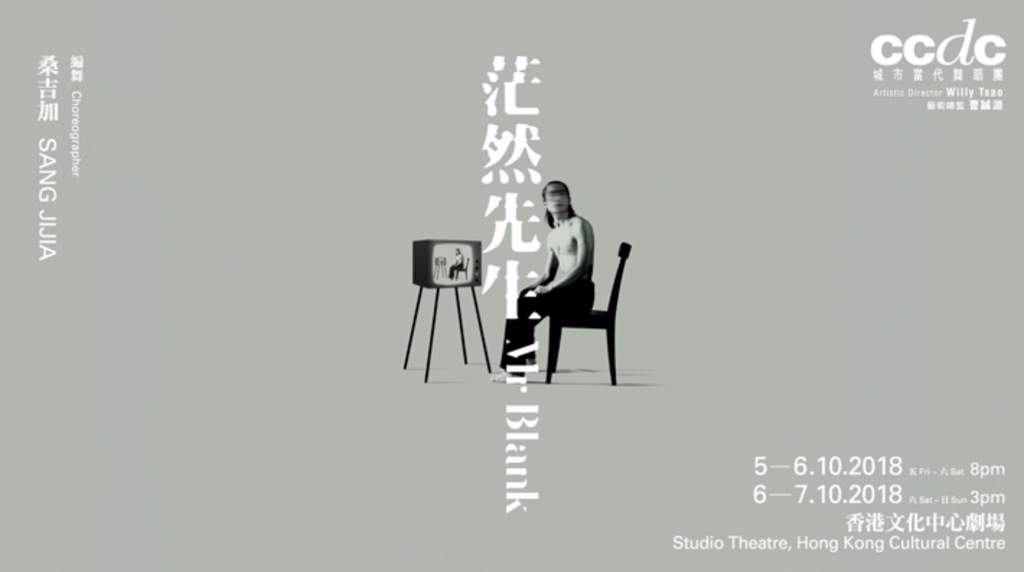 Mr Blank
Contemporary Dance Theatre
the artists
Choreography : Sang Jijia
Dramaturgy : Janice POON
(By kind permission of The Hong Kong Academy for Performing Arts)
Original Music : Dickson Dee @Noise Asia Production
Set and Lighting Design : Leo CHEUNG
(By kind permission of The Hong Kong Academy for Performing Arts)
Assistant Lighting Design : Lawmanray
Costume Design : Cindy HO Pui-shan
Video Design : Oliver SHING
Sound Design : Anthony YEUNG
If something is captured on film, does it mean it is true? What is under the eye of the camera – protection, justice, exploitation or manipulation?
CCDC Resident Choreographer Sang Jijia's new work Mr Blank boldly challenges the controversies in the use of surveillance.
Our world is a giant film studio. Every moment is recorded. Everybody is used to being watched.
One Mr Blank after another looks for his own self through traces remained in this enclosed space.
Enter the cracks in Mr Blank's memory through the camera. Take on the powers that see everything.
Are you ready?
Hailed as 'the perfect dancer', Tibetan choreographer Sang Jijia embeds spoken words, music and new media into his movements, working in close partnership with dramaturg Janice Poon, musician Dickson Dee, set and lighting designer Leo Cheung, costume designer Cindy Ho, video design Oliver Shing and sound design Anthony Yeung. Mr Blank is a brand new dance theatre experience that plays a game of control with audiences.
Oct 05 - 07, 2018
5-6.10.2018* [ Fri~Sat ] 8pm
6-7.10.2018 [ Sat~Sun ] 3pm
*With post-performance meet-the-artist sessions
Studio Theatre, Hong Kong Cultural Centre
$250 $180
Tickets NOW available at URBTIX
Credit Card & Internet Booking: 2111 5999 / www.urbtix.hk
Ticketing Enquiries: 3761 6661
Programme Enquiries: 2329 7803
For ages 6 or above
This programme is approximately 1 hour without intermission
FREE Programme Plus Events
'Freedom Under Surveillance' Talk
15.9.2018 (Sat) 4PM-5PM
9/F Forum, Eslite Book Store (Causeway Bay)
Guest: Sang Jijia, Janice Poon, Wan Yau (Cross-media artist / Researcher)
'Who's Mr Blank?' Video Exhibition
17~23.9.2018
Foyer Exhibition Area E1
Hong Kong Cultural Centre
Free Admission